The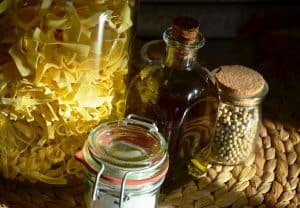 European plastic-free week in 2016 was the start to set me a challenge: to produce no new plastic waste for 1 week. You might have already read my first article about the whole idea. If not, read more here. The week is over, thus it's time for me to share the results. Was I able to not cause any plastic waste for a week? If so, was it difficult or not? What did I learn this week? Keep reading and you'll know more.
The first shopping
After I had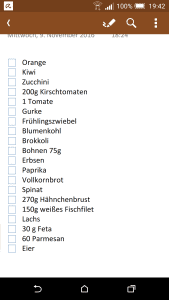 set my goal not to cause any new plastic waste for a week some things needed to change. Already on day one, I needed to go shopping since my fridge was almost empty. My shopping list was long. Thus I was quite curious how much of it I will be actually able to get without plastic wrapping. I have to admit I already started with an advantage: Most of the time I cook my own meals at home to take them to work on the next day. Thus, at least I did not need to get ready-to-eat meals. I don't eat them anyway. Still, I was surprised how hard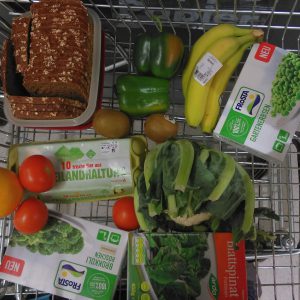 the shopping really was in the end. Just half of the written goods ended up in my basket. All the things that didn't meet the criteria, I didn't buy. I really wanted to achieve this goal to avoid all new plastic waste. For the first time, I realized how difficult it will be to successfully master the challenge. Anyhow, for the beginning, I luckily still could get enough food to survive the next few days. I was just deeply hoping for it, that I'll find a solution for all the other goods I couldn't buy.
Shopping alternatives
Due to my rather bulky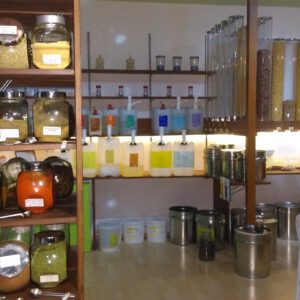 shopping success on the first challenge day, I searched for other shopping opportunities. Even already at this time (in 2016) a few zero waste stores already existed. Nowadays it's even easier, at least in Germany. There exist quite a few now. Thus, I was really lucky to have one in the city I was living on. "Loose" in Dresden was exactly what I was searching for. It is a zero waste store where you can buy staple foods and household products plastic-free. As long as I kept living in Dresden after the challenge, this was one of my absolute favourite stores in Dresden. Even now, every time I come for a visit to Dresden, I pop into the shop. It's my personal noPlasticHeaven. So a tip for you to avoid plastic waste:
Have a look if there is a zero waste store in your area or nearby. If so, go and shop there.
How does such a zero waste store work? Normally, you just bring your own container and fill the food you need into it. Alternatively, you often can also buy glasses, cans, bottles etc. in the shop. The content is then billed by weight. So, it's totally easy. Anyhow, I was still struggling with fish and meat. But since I eat very little of it anyway, that did not bother me too much during this week.
The result of the challenge
After some initial difficulties, the week passed quickly. I started buying dry food in a zero waste store. Vegetables and fruits I got without plastic wrapping in the supermarket. Thus, I actually managed to cause just 1g plastic waste in one week. 1 gram? Not 0 grams?
Yes, I know. The few grams were unfortunately made by an order on Amazon because there was an action cam on offer that I needed for my trip to Mexico. So I had the choice: Either I ordered the camera during the challenge week causing 1g of plastic waste or I wait another week but pay 60 € more than. I guess you know how my decision turned out.
Passed or not? My assessment
Despite the little foil garbage I created, I saw the plastic challenge as successfully conquered. Yes OK. It was not 0 grams, but more than I dreamed of in the beginning. Nevertheless, the whole challenge had a little bitter aftertaste for me. The reason was that I still had milk, yoghurt, quark and cheese at home. Thus I just could use it without the need to worry about buying new ones. Honestly, at this time I didn't even have an idea where to get these things without plastic. Thus, it felt a bit like cheating afterwards. I didn't want to leave it like this. So I decided to extend the challenge and set a new goal: Until 31.12.2016 (4 weeks) I wanted to cause less than 100g of new plastic waste. After doing the challenge for one week I saw how easily you can cause any plastic waste. Thus it would be even more challenging around Christmas. But will I be able to accomplish this goal?
The challenge continues
Now, this deadline is over and I can proudly say: I did it. Within a month, I only produced 80g of new plastic waste.
80g, that's less than the weight of a bar of chocolate!
Have you ever weight your trash? Within a few days,
several hundred grams can quickly be produced. Here I have a comparison for you: on the left side, you see the plastic waste I caused during the first challenge week. It's 1g of plastic caused by the action cam I bought. On the right, it's 225g packaging waste that I caused by the goods I still had at home during this week. They have been gone empty in the first challenge week. What a difference. I am still surprised by this result. Even after the 4-week challenge stopped I maintained my changed shopping behaviour. Instead of 3-4 garbage bags full of packaging garbage within a month, I now have a maximum of half a bag of garbage per month! This half a bag is mainly caused by packaging that has gone empty.
Since the beginning of the challenge, I haven't bought any new plastic packing.
I can tell you:
You can do the same.
My conclusion
Many things can be easily bought plastic-free, you just have to change your shopping habits. Instead of going to a supermarket you can go to a zero waste store or organic food store instead. If possible, switch to glass alternatives for products such as milk or sauces. You also can buy fruit and vegetables loosely instead of in a net. Helpful are here farmer stores. Still, I have to admit that it's not always easy to buy stuff without plastic wrapping. My great luck at this time was definitely the zero waste shop in my town. Thus I will add some more articles on my blog with tips that work in other countries too, even if you don't have zero waste stores there.
Maybe you are motivated by my challenge now and would like to try it or at least pay a little attention to it. That's why I'd like to share with you a few simple tips on how to avoid packaging waste in everyday life. Here you can find some simple tips on how to avoid plastic wrapping. Just try them out, it's not that difficult.
Do you have any questions or have you ever tried to reduce your plastic waste? What were your experiences?