Today I opened my backpack for you and introduce you to 10 sustainable objects that should not be missing on any of my trips. Sustainability and travel in combination repeatedly lead to heated discussions. And that, although there are countless ways how these can be connected. But with these ten items you are a long way ahead in terms of sustainability. It doesn't matter whether it's just a 3-day trip or a month-long stay in another country – I always have these 10 things with me. I can recommend this bottle with a clear conscience, but of course there are countless other good bottles as well.
1. Reusable (stainless steel) bottle
My stainless steel bottle I have always with me, even if I'm only on the road for a few hours. Depending on the country, you have the option of filling it with tap water or water from other sources. I have already seen several times in different places around the world that there is a water filling station. For example in Edminton at the airport or various water spots on Malta. You can just go to these spots, drop in money if necessary, and fill your bottle. If you're staying in a hotel or hostel, you can often refill your bottle in the lobby or restaurant. And even if these options are not available, you can buy larger water containers and fill your daily needs into your own bottle – this not only saves money, but also protects the environment, as you don't have to constantly buy 500ml or 1l water bottles.
My most loyal sustainable companion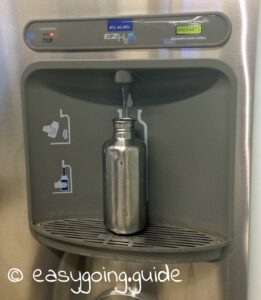 As a loyal companion I have for me a Klean Kanteen * selected. I definitely prefer stainless steel over glass as it is much more sturdy. Even if you drop your bottle, it will only have a dent instead of breaking. The Klean Kanteen is made of BPA-free stainless steel and is extremely robust. I've dropped my bottle so many times, but there are no more than a few dents to be seen. The bottle comes in different color versions with different closures, so that there is something for everyone.
2. Shopping bag / pouch made of fabric
A bag made of cloth is also
like my Klean Kanteen, an item that I have with me almost every day. Even when I'm not planning to go shopping, a bag of any kind can always come in handy. Be it to organize the items in the backpack or to carry something you have bought. The trend in many countries around the world is increasingly that plastic bags are banned completely. But even in places where this has not yet been implemented, you can avoid plastic bags with the bag you have brought with you. Shopping bags come in a wide variety of models and materials, depending on what you like best. I like to have a model like this * , because I don't just want it to be a small bag fold together, but can also be carried on your back. You can find a more environmentally friendly alternative made of organic cotton here * . Of course, you can also use any other type of cloth bag, depending on what you have at home.
3. Coffee to go mug
Regardless of whether Bamboo or stainless steel cups, a "coffee to go" cup is an absolute must, especially for coffee lovers. According to the study, 320,000 coffee mugs end up in the garbage every hour in Germany. Fortunately, the trend is now towards reducing this number. Some coffee sellers now offer discounts if you bring your own mug. But even if you don't, you can usually have your own mug filled – all you have to do is ask. Find here * a selection of bamboo cups in various colors and designs. When buying the mug, make sure that it is made of natural materials. According to the latest studies, some bamboo cups contain plastic. Alternatively, you can also use a stainless steel cup * .
4. Stainless steel lunch box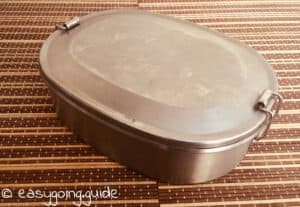 If we are already for sustainable items for Food, a stainless steel tin must not be forgotten to be mentioned. I have one made of 100% stainless steel that has two practical closures on the side. This prevents unintentional opening. The stainless steel can * has often provided me with excellent service. I use it to store a snack I have bought in it, to be able to transport my homemade snack on a day trip without packaging or simply to sort smaller items in my backpack.
5. Travel cutlery
If you have buying a snack on the way or have it with you in your stainless steel box in your backpack, it can make sense to have light travel cutlery in your backpack. Compared to conventional cutlery, it is particularly impressive due to its weight. I discovered a outdoor cutlery * from Sea to Summit – it's easy, simple easy to clean and extremely robust. Often I was able to do without the use of plastic cutlery at a snack and avoid garbage.
6. Stainless steel straw
Who loves not on vacation on Sip a delicious cocktail on the beach at sunset. Or a fresh coconut in Thailand or Mexico. Often, however, all of these come with a plastic straw. In Germany alone, 40 million straws end up in the garbage every year and in the worst case end up in the sea. Perhaps you've already seen a video of a straw being pulled out of a turtle's nose … a terrible sight, if you ask me. A simple remedy is to simply bring your own straw with you. These are now available in various versions: made of bamboo, glass or stainless steel. Curved or straight. Here, too, I prefer a variant made of stainless steel, as they are robust and easy to clean. They are also hygienic and tasteless. This variant here * comes in a practical bag made of hemp so that the straws do not get dirty during transport will not be lost.
7. Bamboo toothbrush cover
One of the most common found items The beach cleanups in Mexico were toothbrushes. It takes hundreds of years for them to break down into tiny particles. So until then they swim in the sea or are washed up on beaches. It is recommended that you change your toothbrush every 3 months. Assuming that we start brushing our teeth at half a year old (or have them brushed in that case) and the average life expectancy is 72 years, that is 286 toothbrushes that end up in the trash per person. Lots of plastic …. Bamboo toothbrushes like those from Hydrophyl * are an alternative nowadays. It is made from 100% renewable raw materials, BPA and petroleum free. The handle is made of fast-growing mobo bamboo and the organic nylon bristles are made from castor oil. Hydrophyl has long been the pioneer in the field of bamboo toothbrushes. Meanwhile, many other manufacturers are following suit, so that you can now also find bamboo toothbrushes in various drug stores. Hydrophyl toothbrushes have been accompanying me very satisfactorily for several years now. Especially for traveling I have learned to love the matching bamboo case * . It keeps my toothbrush clean and dry thanks to the openings in the lid and base.
8. Environmentally friendly toothpaste
In principle conventional cosmetics often contain chemical substances Substances and microplastics that we are not even aware of. In addition to the health risks, the substances then end up in our wastewater, where they can cause great damage. To avoid this, you can switch to toothpaste made from natural products * . toothbrush tablets * , which can be found online or in many bulk stores, are also an alternative. Recently, these have also been available in drugstores. Personally, however, I prefer a self-made toothpaste that I always have with me in a small glass. I always know exactly what's in it. You will soon find the recipe for it on my blog.
9. Natural soap
Likewise like toothpaste, there is the same problem with the ingredients and microplastics in soaps. Did you know that the small pearls in your beloved peeling shampoo are actually plastic items? You can imagine where they end up when you use your shampoo. Most other shampoos also contain questionable substances. You can just check the label on your shampoo bottle. Do you find terms such as polyethylene (PE), polypropylene (PP), polyamide (PA), polyethylene terephthalate (PET), acrylate copolymer (AC), acrylate cross polymer (ACS) or polyacrylate (PA)? All microplastics. Not to mention the many plastic bottles that end up in the trash as soon as the shampoo is used up. As an alternative, you can use natural soaps. They come in a wide variety of shapes, smells and ingredients. You can find a selection here * . A sisal bag * in which I carry my soap has also proven extremely practical for me. Thanks to the small loop, I can hang it up to dry. At the same time, I have a light exfoliation for my skin. On the way, I also transport my soap in a box that I still had at home. If you need to buy a new one, I can recommend one made of bio-plastic like this * . Unfortunately, I lost mine in Mexico.
10. Natural shampoo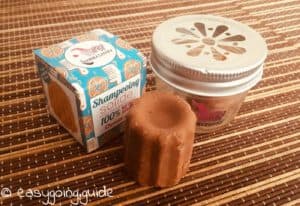 If we are already talking about soaps we must of course also mention hair soaps. What is true for body shampoos is of course the same for hair. In addition to options such as washing without soap, I have been using solid hair shampoo for several years now. Depending on the hair type, there are also different soaps on offer. You can find a selection here * . I am currently using this soap from Lamazuna * for dry hair. The company also offers a glass container * with ventilation, which allows the transport of my soap itself directly after washing hair becomes incredibly easy. Since my fiancé has extremely dry hair and a dry scalp, I mixed him a shampoo made from various natural ingredients myself. You can find the recipe here on the blog soon.
Conclusion – sustainable objects are not only good for traveling
In principle, you can use all 10 sustainable objects not only when traveling, but also at home in order to generate less waste and live more chemical-free. All of the items can be bought online or on site in bulk stores and some in drugstores. As soon as you have the items mentioned, you can enjoy them for a long time. Yes, even on the soaps. A bar of soap is usually enough for me for several months (usually at least half a year). Another positive side effect of bar soaps is that you no longer have problems with the fluid restriction at the airport security if you only travel with hand luggage.
So what are you waiting for?
Have I forgotten a product that should not be missing on any of your trips? or do you have other product recommendations? Please let me know