Most of us
cause a lot of packaging waste every single day. Is this really necessary? I already showed you 10 simple tips on how to avoid plastic waste in your everyday life. Due to my NoPlasticWaste-Challenge, I was able to develop a few more methods on how to avoid packaging waste. They all worked pretty well. That's why I want to share them with you today. You are able to change something, too. Once you change your mind and adjust your habits, it becomes easier than you think.
1. Shop in zero waste stores
My personal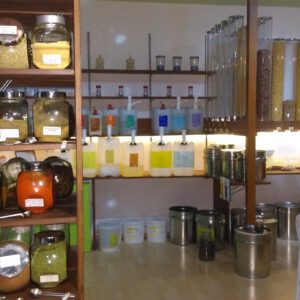 NoPlastic-Waste paradise is definitely a zero waste store. There you can bring your own jars and boxes to fill them with the food you need. Afterwards, you pay by weight. It's really useful especially to get staple foods and spices. But even cheese, antipasti, tofu and budget funds can be found there. In Germany, these kind of shops are already quite common now. But even in Tulum, Mexico the first zero waste store opened a few weeks ago. Thus, have a look whether something similar exists also where you live.
2. Always have an empty food container with you
If it's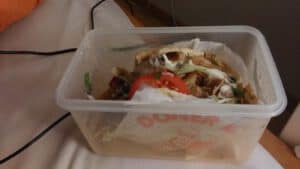 the coffee to go or the snack on the go, the "normal" purchase still causes packaging. You can avoid this by always having a food container or reusable cup with you. My best friend for water is a Klean Kanteen* bottle. I often also carry a stainless steel box with me for snacks. If I buy something on the go, I just can store it inside this box. In the beginning, it is enough to take a box you still have at home. If you need to buy one I can highly recommend this* stainless steel box. Due to the clips I've never had problems with leaking.
3. Ask in the store whether they can put your food into a reusable box
This
advice is closely linked to the one before. In Germany, it gets more and more common to bring your own box with you to the counter. You just can ask and they put cheese or meat into your box. Or even a kebab. Also in other countries, it's quite often possible to store it into your own box. Just be brave and ask. Of course, due to sanitary reasons, you can not expect all business to agree. Anyhow, at least you can try. And if you don't like it, leave the store and have a look for a different one where they agree. That's what I'm used to doing.
4. Buy at fresh food counters or weekly markets
Best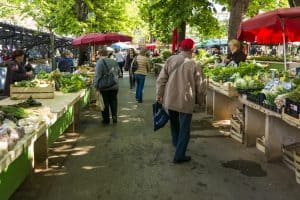 places to get food without wrapping are fresh food counters or local markets. Use these options when shopping to avoid packaging waste. Alternatively, you can go to organic shops or farmer shops. They often offer a wide range of different products without wrapping.
5. Use glass alternatives or buy loose
Many
products sold in plastic packaging can also be bought in a jar or, even better, loose. Have a look for alternative wrapping whenever you can. For fruits and vegetables you often have the choice between wrapped ones and the ones without wrapping at all. Also buying glass jars instead might be appropriate especially when you live in a country with a mortgage system such as Germany. There you can bring the jar back to the supermarkets to get cash back. If this is not possible you can use the jars at home for storage or your own cleaning products.
6. Make your own household and cleaning products
Common
household and cleaning products not just cause a lot of plastic waste due to empty bottles, they're also full of questionable chemicals. There exist plenty of easy and fast recipes on how to make your own products. I can tell you, it's really easy. Soon I will show you some simple recipes on how to make your own cleaners, toothpaste or shampoos.
7. Ask for gifts without wrapping for birthdays
When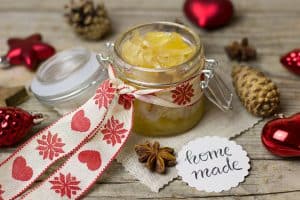 I was young I always got a lot of chocolate for Christmas or my birthday. Of course, everything was wrapped in plastic. Quite often it's even so much that you can eat it all year long. You might know what I'm talking about. Once the items are empty, then a large pile of packaging waste remains. I abolished that already years ago because I preferred to have nuts or other healthy food. Nowadays, I almost do not eat chocolate anymore. Nevertheless, nuts are usually also packed in plastic. Anyhow, as soon as your loved ones know that you are trying to cause less packaging waste, you can ask them to respect this as well when giving gifts to you. They don't need to understand it, but mostly they're still quite cooperative. Why not asking for fruits instead of chocolate? Or you can get a nice loose tea. Maybe, this even helps that they also start thinking about their garbage a bit.
You can do exactly the same when you give away gifts. Have you ever thought about to give away a homemade herbal oil or bath salts? It can be easily done without any plastic wrapping.
Do you have any more ideas that should definitely be listed here? What did you experience for plastic-free shopping? Let me know in the comments. I'm curious about what you have to report.
The links marked with an asterisk (*) are so-called affiliate links. If you click on such an affiliate link and buy through this link, I get from the relevant online store or provider a commission. For you, the price does not change.